---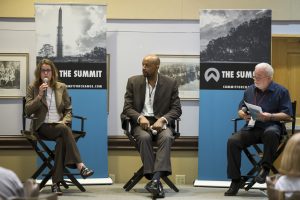 The Summit is a unique cross-sector gathering of leaders committed to world change through faith and justice. Thought leaders and movement makers from a variety of faith traditions and fields will meet to discuss, strategize, and create opportunities to act on some of the most pressing issues in our nation and world. Instead of a large conference, The Summit convenes an intimate gathering of 300 leaders committed to finding solutions through collaboration.
Each day, we gather to explore the intersections between our areas of work and engage in smaller forums that inspire common action. Throughout The Summit, in-depth training — such as media and campaign development — is available to participants. Receptions and lightly programmed time are also included to help foster relationships.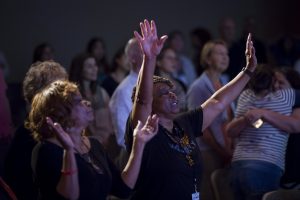 Information on featured participants for The Summit 2018 can be found here, and the schedule here. An overview of the programming, speakers, and attendees of recent Summit years are available here (The Summit 2015), here (The Summit 2016), and here (The Summit 2017). You can check out video of some of our main stage sessions here.
To nominate a leader to attend The Summit, please complete this form.
---
Application
The Summit will take place June 13-15, 2018 at the Kellogg Conference Hotel at the campus of Gallaudet University.
We are looking for pastors, organizers, advocates, service providers, business leaders, and others who are interested in coming together to address critical issues of justice. The Summit is a diverse event and includes leaders from a variety of backgrounds and sectors who are highly committed to the ongoing work of justice in their communities and the world.
If you are interested in attending The Summit, please complete this form. This application is not a commitment to attend The Summit 2018 – those who are accepted will be invited to register.